| | |
| --- | --- |
| New post on Now The End Begins | |
Members of the U.S. Air Force will no longer be required to say "so help me God" during their enlistment oath.
We are living in Obama's America, which is to say a post-Christian society. Never in the history of this country has one president wrought so much spiritual damage on this nation as the Sunni Muslim from Hawaii by way of Kenya. Brick by brick, the foundation that has made this country great and strong is being dismantled, and we have lost the blessing of the Almighty God of Abraham, Issac and Jacob.
And that's exactly the type of "change" Obama has had in mind from the beginning.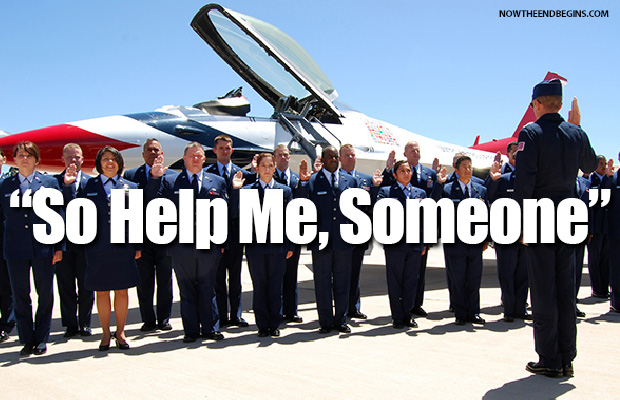 "We take any instance in which Airmen report concerns regarding religious freedom seriously," said Air Force Secretary Deborah Lee James, Air Force Times reported Wednesday. The change in policy goes into effect immediately.
"We are pleased that the U.S. Department of
Defense
has confirmed our client has a First Amendment right to omit the reference to a supreme being in his reenlistment oath," Monica Miller, an attorney with the AHA's Appignani Humanist Legal Center, said in a statement Wednesday, Air Force Times reported. "We hope the Air Force will respect the constitutional rights of Atheists in the future."
The
Army
, Navy and Marine Corps all give enlistees the option to say "so help me God."