(Read the post online for better viewing & lots of resources)
NOT THIS ONE...
NOR THIS AMERICAN IDOL ...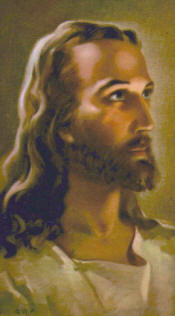 The most popular picture of Jesus of all time.
Painted in 1940 by Warner Sallman
The object of personal devotion of millions of people
... THEIR IDOL
And yet ...
This wall painting, depicting the Healing of the Paralytic, is the earliest known representation of Jesus, dating from about 235 AD.
According to the legend, King

Abgar

received the Image of Edessa, a likeness of

Jesus

,

the first

icon

("image"). In

Eastern Orthodoxy

, and often in English, the image is known as the Mandylion. 10th Century icon.
And there are literally thousands more images ... such as:
11th Century
Stained glass from Wissembourg, France


12th Century
Sculpture, Church of Saint Nectaire
13th Century
Byzantine mosaic, San Marco, Venic
14th Century
Macedonian painting on wood by John Mitropolitian
16th Century
Renaissance painting by Titian
Jeffrey Hunter in MGM film King of Kings
21st Century: Shroud of Turin
Sananda "Jesus" - New Age "Christ"
Sananda "Jesus" - New Age "Christ"


HOW EASY WILL IT BE TO
DECEIVE PEOPLE
WHEN THE LOOK-ALIKE
ANTICHRIST COMES?